35-02  SHOVEL AND AXE KIT
35-02A  MILITARY SHOVEL AND AXE KIT
All Willys military vehicles came equipped with an issue "D" handle shovel. The Willys MB, the Ford GPW and the Willys M38 were also equipped with single bit axe.  The shovel and axe kit was located on the driver's side of the MB and GPW.  The kit was moved to the passenger's side on the M38. The "D" handle shovel was secured to the underside of the hood and the axe was eliminated on the M38A1. The "D" handle shovel was installed on the right side and the axe was installed on the left side of the M151 Vehicles.
Early CJ-2A's have the indents for the shovel and axe which makes the installation of our shovel and axe kit a nice addition.  The late CJ-2A's, CJ-3A and CJ-3B will accept the kit without any special modifications although the axe handle will be  farther out from the cowl as compared to the vehicles with the factory indents. 
Our shovel and axe kit comes complete with an original hand forged #2 spade "D" handle shovel, a single bit forged thin head Collins type axe, all of the brackets and clamps, the footman loops, the web straps and the correct mounting hardware.  We sell all of the components separately as well.
This kit can be installed on the CJ-5/6/M38A1 or any other vehicle with flat sides by using our
"D" handle shovel Part No. 673770-B with the 30 degree angled blade.
SHOVEL AND AXE KIT INSTALLED  AS ILLUSTRATED IN TM 9-803
PREFIX
PART NO.
DESCRIPTION
APPLICATION
PRICE

RPL

673770K

 

 MILITARY SHOVEL AND AXE KIT, 
 COMPLETE, WITH THE CORRECT MOUNTING HARDWARE.

 

  MB/GPW CJ-2A/3A/3B M38 AND OTHERS


$ 245.00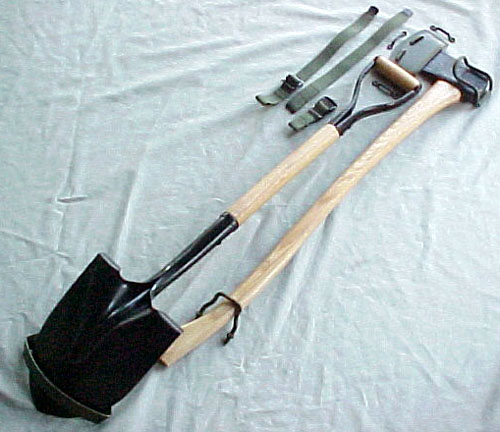 35-02B  MILITARY SHOVEL AND AXE KIT PARTS
PREFIX
PART NO.
DESCRIPTION
APPLICATION
PRICE
RPL
673770-A

 

 "D" HANDLE SHOVEL, WITH 45 DEGREE
 ANGLED FORGED STEEL BLADE, 39" LONG, AMERICAN HARDWOOD HANDLE AND GRIP, STAMPED STEEL "D" HANDLE, ASSEMBLED IN THE USA.

ALL VEHICLES

$ 88.50
NOS

673770  NOS 


 

 "D" HANDLE SHOVEL, WITH 45 DEGREE
 ANGLED FORGED STEEL BLADE, 37" LONG, AMERICAN HARDWOOD HANDLE AND GRIP, STAMPED STEEL "D" HANDLE, MADE IN THE USA. 1944 ISSUE BALDWINS OPTIMUS #2. STAMPED ON BLADE SHANK. WE HAVE A LIMITED NUMBER OF THESE.

ALL VEHICLES

NLA
RPL
673770-B

 

 "D" HANDLE SHOVEL, WITH 30 DEGREE
 ANGLED STAMPED STEEL BLADE, 41" LONG, FOR USE ON FLAT SURFACES.

 CJ-5/6 M38A1 SW/ SD/PU
$ 32.50
OEM
25545A

 

 "D" HANDLE SHOVEL GRIP, STEEL WITH HARDWOOD GRIP, FITS ALL EARLY "D" HANDLE SHOVELS.

ALL VEHICLES

$ 22.50
OEM
25545B

 

 "D" HANDLE SHOVEL HANDLE, STEEL WITH HARDWOOD GRIP AND SHAFT, FITS ALL EARLY "D" HANDLE SHOVELS. STAMPED "CHICKASAW IRON WORKS."

ALL VEHICLES

$ 28.50
RPL
A-3082
673769

 

 SHOVEL BLADE BRACKET, WITH CORRECT TAPERED HOLES AND MOUNTING HARDWARE.

 ALL VEHICLES
$ 25.00
OEM
637411

 

 SINGLE BIT AXE, COLLINS TYPE, 35" LONG, 5 LB. FORGED STEEL HEAD, "US" CAST INTO THE HEAD, APPALACHIAN HARDWOOD HANDLE, ALL MADE IN THE UNITED STATES OF AMERICA.

ALL VEHICLES

$ 42.50
RPL
A-2995
673412

 

 FRONT AXE HANDLE CLAMP, WITH CORRECT MOUNTING HARDWARE.

 ALL VEHICLES
$ 12.50
RPL
A-2984
673647

 

 REAR AXE HEAD CLAMP, WITH CORRECT TAPERED HOLES AND MOUNTING HARDWARE.

 ALL VEHICLES
$ 25.00
RPL
A-2968
673414

 

AXE HEAD SHEATH, WELD-ON

 

 ALL VEHICLES
$ 18.50
RPL
A-2168


 

FOOTMAN LOOP, WILLYS TYPE, STAMPED STEEL ROD, ZINC-PLATED,WITH CORRECT MOUNTING HARDWARE.

 

MB/GPW
$ 3.25 EA.

RPL
GPW- 1154810-A


 

FOOTMAN LOOP, FORD TYPE, CAST IRON, PAINTED O.D. GREEN,WITH CORRECT MOUNTING HARDWARE.

 

ALL FORD VEHICLES

$ 4.75 EA.

RPL
673416

 

 SHOVEL AND AXE STRAP KIT, 1" WIDE OLIVE DRAB COTTON WITH CORRECT BUCKLES AND TIPS.

 ALL VEHICLES
$ 22.50
| | | | | | | |
| --- | --- | --- | --- | --- | --- | --- |
|   | 673770-A FORGED BLADE |   |   | 673770-A "D" HANDLE |   |   |
| | | | | | | | |
| --- | --- | --- | --- | --- | --- | --- | --- |
|   | 673770-NOS FORGED BLADE |   |   |   | 673770-NOS "D" HANDLE |   |   |
| | | | | | | | |
| --- | --- | --- | --- | --- | --- | --- | --- |
|   | 673770-B STAMPED BLADE |   |   |   | 673770-B "D" HANDLE |   |   |
A-3082/673769

$ 25.00
COLLINS SINGLE BIT AXLE


$ 42.50
| | | | | | | | |
| --- | --- | --- | --- | --- | --- | --- | --- |
|   | A-2995/673412 | $ 12.50 |   |   | A-2984/673647 | $ 25.00 |   |
A-2968/673414

$ 18.50
| | | | | | | | |
| --- | --- | --- | --- | --- | --- | --- | --- |
|   | A-2168 | $ 3.25 |   |   | GPW-1154810-A | $ 4.75 |   |